E-commerce Analytics and Reporting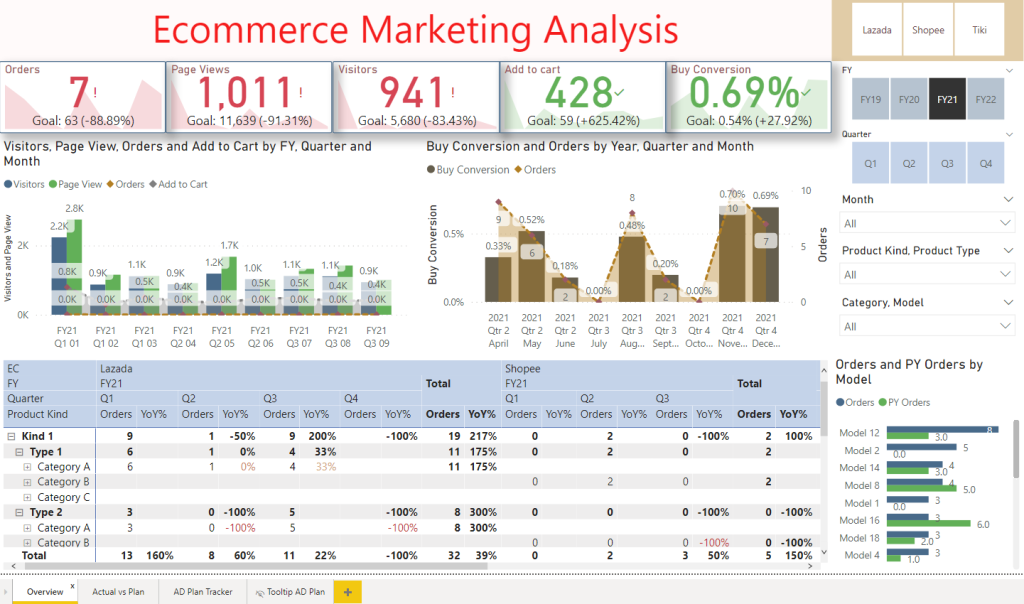 E-commerce analytics and reporting are crucial in understanding and improving the performance of online businesses. With the growing popularity of e-commerce, businesses need to effectively measure and evaluate their website and marketing efforts to optimize conversions, increase sales, and stay ahead of the competition.
The Importance of E-commerce Analytics
E-commerce analytics provides valuable insights into customer behavior, helps identify trends, and enables businesses to make data-driven decisions. By analyzing various metrics and reports, businesses can understand how visitors interact with their websites, what products or services are preferred, and which marketing channels are generating results.
With analytics, businesses can track and monitor key performance indicators (KPIs) such as website traffic, conversion rates, average order value, bounce rates, and customer engagement. These metrics allow businesses to benchmark their performance, identify areas that need improvement, and implement strategies to boost sales and revenue.
Types of E-commerce Analytics
There are several types of e-commerce analytics that businesses can utilize to gain insights into their performance:
Web Analytics
Web analytics focuses on monitoring website traffic, user behavior, and conversions. It provides information about the number of visitors, page views, session duration, bounce rates, and sources of traffic. By understanding how users navigate through the website, businesses can optimize their website structure, user experience, and content to increase conversions and customer satisfaction.
Sales Analytics
Sales analytics focuses on tracking and analyzing sales data, including revenue, average order value, product performance, discounts, and customer lifetime value. By evaluating sales metrics, businesses can identify top-selling products, evaluate pricing strategies, and implement effective cross-selling or upselling techniques.
Marketing Analytics
Marketing analytics helps businesses understand the effectiveness of their marketing campaigns and channels. It provides insights into the performance of paid advertisements, email marketing campaigns, social media efforts, and SEO. By measuring metrics such as click-through rates, conversion rates, and return on investment (ROI), businesses can allocate resources to the most profitable marketing channels and refine their strategies accordingly.
Tools for E-commerce Analytics
There are various tools available to assist businesses in collecting and analyzing e-commerce data:
Google Analytics
Google Analytics is a widely used web analytics tool that provides in-depth information about website performance, user behavior, and marketing effectiveness. It offers a comprehensive suite of features including customizable reports, real-time data, and e-commerce tracking. Google Analytics helps businesses identify their target audience, optimize marketing efforts, and improve overall website performance.
KISSmetrics
KISSmetrics is a user-centric analytics tool that focuses on tracking individual user behavior and conversion paths. It helps businesses understand each customer's journey throughout the website, allowing targeted marketing campaigns and personalized experiences. KISSmetrics provides valuable insights into user engagement, customer retention, and lifetime value.
Mixpanel
Mixpanel is an advanced analytics platform that specializes in tracking and analyzing user interactions with websites and mobile applications. It provides detailed event tracking, segmentation, and funnel analysis. Mixpanel enables businesses to identify bottlenecks, optimize conversion paths, and enhance user experiences.
Benefits of E-commerce Analytics and Reporting
By leveraging e-commerce analytics and reporting, businesses can achieve various benefits:
Data-driven Decision Making
E-commerce analytics allows businesses to make informed decisions based on accurate data rather than relying on assumptions or intuition. By evaluating performance metrics, businesses can identify areas for improvement, optimize marketing strategies, and allocate resources effectively.
Improved Conversion Rates
Understanding customer behavior through analytics enables businesses to optimize their websites and marketing campaigns to improve conversion rates. By identifying the factors that drive conversions, businesses can enhance user experiences, streamline purchase processes, and reduce cart abandonment.
Targeted Marketing Strategies
With the help of analytics, businesses can identify their target audience, understand their preferences, and tailor marketing messages accordingly. This enables businesses to create personalized marketing campaigns, increase customer engagement, and improve the overall effectiveness of their marketing efforts.
Competitive Advantage
Utilizing e-commerce analytics gives businesses a competitive edge by allowing them to stay updated on industry trends, track competitor performance, and identify new opportunities. By monitoring and reacting to market changes, businesses can adapt their strategies and better meet customer needs.
Conclusion
E-commerce analytics and reporting are essential for businesses to succeed in the competitive online marketplace. By measuring and evaluating various metrics, businesses gain valuable insights into customer behavior, optimize marketing efforts, and improve overall performance. With the right analytics tools and data-driven decision-making, businesses can achieve increased conversions, profitability, and a thriving e-commerce presence.