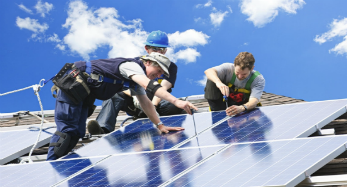 In today's world, where climate change and environmental degradation are becoming major concerns, the

demand for green energy solutions is increasing rapidly. Green energy refers to renewable energy sources
that are environmentally friendly and sustainable. These solutions aim to reduce our dependence on
traditional fossil fuels like coal, oil, and natural gas, which have detrimental effects on our planet.
The Importance of Green Energy
Green energy is crucial for several reasons. Firstly, it helps combat climate change. The burning of
fossil fuels releases large amounts of greenhouse gases, primarily carbon dioxide, into the atmosphere.
These gases trap heat and lead to the greenhouse effect, causing global warming. Renewable energy sources
like solar, wind, and hydroelectric power do not produce greenhouse gas emissions, making them a
viable alternative.
Secondly, green energy solutions reduce air pollution. Traditional energy production methods release
harmful pollutants, such as sulfur dioxide, nitrogen oxide, and particulate matter, which contribute to
respiratory and cardiovascular diseases. Renewable energy technologies produce minimal to no air
pollution, thus improving the quality of our air and reducing health risks.
Lastly, green energy solutions help conserve our natural resources. Fossil fuels are finite resources
that will eventually run out. By transitioning to renewable sources, we can ensure a sustainable supply
of energy for future generations. Additionally, extracting and burning fossil fuels have environmental
consequences, including habitat destruction and water pollution. Investing in green energy minimizes
these negative impacts.
Types of Green Energy Solutions
There are various types of green energy solutions that are being implemented worldwide:
1. Solar Power
Solar power harnesses the energy from the sun using photovoltaic cells or solar thermal systems. These
technologies convert sunlight into electricity or heat, respectively. Solar power is a clean, abundant,
and renewable energy source that can be utilized for residential, commercial, and industrial purposes.
2. Wind Power
Wind power utilizes the kinetic energy of the wind to generate electricity. Large wind turbines, often
located in windy regions or offshore, convert the wind's rotational motion into electrical power. Wind
energy is known for its scalability, as it can be harnessed at both small and large scales.
3. Hydroelectric Power
Hydroelectric power is generated by the force of flowing or falling water. Dams or other structures
divert water, which then spins turbines to produce electricity. Hydroelectric power is a reliable and
well-established green energy solution, with large-scale plants supplying significant amounts of
electricity to communities.
4. Geothermal Energy
Geothermal energy utilizes the heat from within the Earth to produce electricity or heating/cooling for
buildings. This clean and consistent energy source taps into the Earth's natural heat, which is
renewable and widely available. Geothermal power plants can be found in areas with hot springs or
geologically active regions.
5. Biomass
Biomass refers to organic matter such as crops, wood, or agricultural residuals that can be converted
into biofuels or used directly for heat and electricity generation. Unlike fossil fuels, biomass is
carbon-neutral as it releases the same amount of carbon dioxide when burned as it absorbed during
growth.
The Future of Green Energy Solutions
The future of green energy solutions looks promising. As technology advances and economies of scale are
achieved, renewable energy will become more affordable and accessible to the masses. Governments and
organizations worldwide are investing in research and development, pushing the boundaries of green
energy innovation.
Additionally, the demand for green energy solutions is rapidly growing. Consumers are becoming more
conscious of their environmental footprints and are actively seeking sustainable alternatives. This
shift in consumer preferences is driving industries to adopt clean energy sources to meet their
customers' demands.
The implementation of green energy solutions also creates job opportunities, stimulates economic growth,
and reduces dependence on foreign energy sources. These benefits make the transition to renewable energy
not only an environmental necessity but also an economic opportunity.
Conclusion
Green energy solutions are essential for mitigating climate change, reducing pollution, and conserving
natural resources. Solar, wind, hydroelectric, geothermal, and biomass energy sources offer sustainable
alternatives to traditional fossil fuels. As we move towards a future with clean and renewable energy,
it is crucial for governments, industries, and individuals to embrace and invest in these green
solutions. Together, we can create a greener and more sustainable planet for generations to come.