E-commerce Marketing Strategy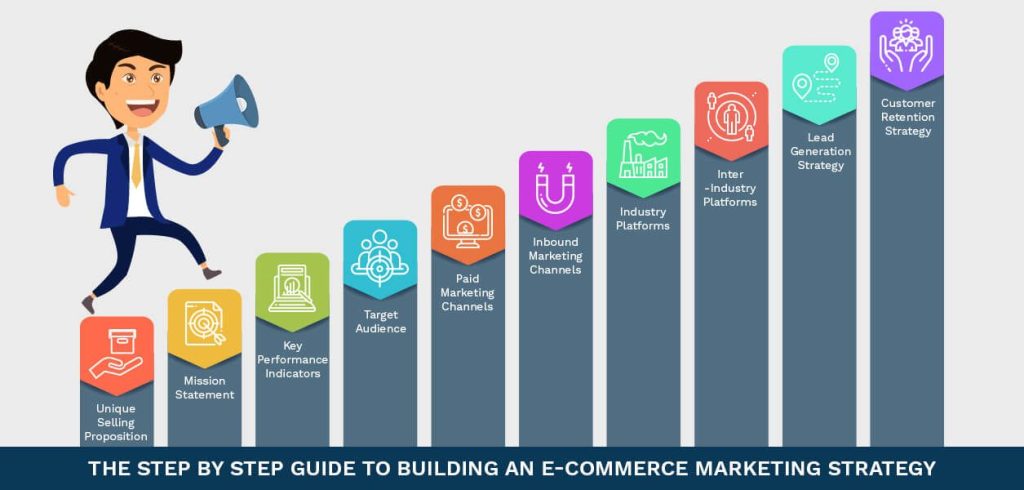 In today's digital era, having a robust marketing strategy is essential for e-commerce businesses to thrive. With the increasing competition in the online marketplace, it is crucial to stand out from the crowd and attract potential customers. In this article, we will discuss some effective e-commerce marketing strategies that can help boost your online business and drive sales.
1. Optimize Your Website for Search Engines
Search engine optimization (SEO) plays a vital role in improving your website's visibility on search engine result pages (SERPs). By optimizing your website's content and structure, you can increase your organic traffic, resulting in more potential customers discovering your online store.
Some essential SEO practices include:
Keyword research and usage: Identify relevant keywords that your target audience is likely to search for and integrate them naturally into your website content.
Meta tags and descriptions: Create attractive meta titles and descriptions for each page of your website, optimizing them with relevant keywords.
Mobile optimization: Ensure that your website is mobile-friendly to cater to the increasing number of mobile users.
Internal and external linking: Link relevant pages within your website and build high-quality backlinks from other reputable websites.
2. Leverage Social Media Platforms
Social media has become an integral part of our daily lives and offers a vast potential for reaching and engaging with your target audience. Create business profiles/accounts on popular social media platforms such as Facebook, Instagram, Twitter, and LinkedIn, and regularly post engaging content to attract and retain followers.
Some effective social media strategies include:
Content creation: Share informative blog posts, product updates, industry news, and engaging visuals to keep your followers informed and interested.
Connect and interact: Engage with your audience by responding to comments, messages, and reviews promptly. This helps build trust and credibility.
Influencer partnerships: Collaborate with influencers and bloggers relevant to your niche to reach their followers and promote your products.
Run contests and giveaways: Organize social media contests and giveaways to increase brand awareness and encourage user participation.
3. Implement Email Marketing Campaigns
Email marketing remains one of the most effective ways to nurture leads, build customer relationships, and drive sales. Collect email addresses from your website visitors and existing customers, and create targeted email campaigns to deliver personalized content and offers.
Some tips for successful email marketing campaigns include:
Segmentation: Divide your email list into segments based on demographics, purchase history, preferences, etc., and send targeted messages to each group.
Personalization: Address your subscribers by their names and personalize the email content based on their interests and past interactions.
Automation: Utilize automation tools to schedule and send emails at the right time, such as welcome emails, abandoned cart reminders, and post-purchase follow-ups.
Optimize for mobile: Ensure your emails are mobile-responsive to provide a seamless experience across different devices.
4. Offer Incentives and Discounts
Customers love a good bargain, so offering incentives and discounts can be an effective way to attract new customers and encourage repeat purchases. Consider implementing the following strategies:
First-time buyer discounts: Offer a special discount to first-time visitors to persuade them to make a purchase.
Loyalty programs: Reward your loyal customers with exclusive discounts, freebies, or VIP perks to encourage repeat purchases and brand loyalty.
Flash sales and limited-time offers: Create a sense of urgency by running limited-time promotions, encouraging customers to make a purchase immediately.
Affiliate marketing: Collaborate with relevant influencers or affiliates who promote your products in exchange for a commission.
5. Analyze and Optimize Performance
Regularly analyzing your e-commerce marketing performance is crucial to measure success and identify areas for improvement. Take advantage of various analytics tools to track key metrics such as website traffic, conversion rates, bounce rates, and customer behavior.
Some important areas to focus on for optimization include:
Conversion rate optimization (CRO): Analyze your website's conversion funnel, identify any bottlenecks, and make necessary optimizations to improve your conversion rates.
A/B testing: Create multiple versions of landing pages, email campaigns, or advertisements, and compare their performance to identify the best-performing elements.
Customer feedback: Collect feedback from your customers through surveys or reviews to understand their preferences and address any pain points they may have.
Competitor analysis: Keep an eye on your competitors' marketing strategies and tactics to stay ahead in the market.
By implementing these effective e-commerce marketing strategies and continuously adapting to market trends, you can boost your online business, increase brand visibility, and drive sales. Remember, consistency and data-driven decision-making are key to e-commerce marketing success.